From finely chopping up the cabbage to hand-squishing the chopped pieces with salt, making sauerkraut can be a smelly and taxing process. But I'm not here to discourage you from making sauerkraut; in fact, I love it! Especially when it's garlicky!
And I have SO many reasons why:
Benefit 1: Improves Healthy Gut Bacteria
Like all fermented foods, it's probiotic rich so that means that you will have a happy tummy after eating this superfood.
Why do probiotics matter?
Well, for generally healthy people with no digestive disorders, you'll find benefit in taking probiotics because they've been known to help your immune system, maintain a healthy weight, lower your risk of getting a digestive disorder, mood disorders (see the brain-gut connection), supports brain function and helps reduce inflammation.
Sauerkraut has also been shown to improve the effects of digestive disorders like leaky guy syndrome, ulcerative colitis, IBS and pouchitis, alleviating the stress on your digestive system and reducing the symptoms associated with food allergies. Some of the most common allergies that it helps is lactose and milk proteins, among others.
Benefit 2: Antioxidant Rich
Antioxidants are amazing. From improving your skin health to giving your body what it needs to fight free radicals, antioxidants are found in many foods like berries, and, of course, sauerkraut!
Sauerkraut made from red cabbage has its own wonderful antioxidant called anthocyanin. They not only give other foods like blueberries their deep color, but they also have components that help fight diseases, too. How awesome is that?
Benefit 3: Improves Women's Health
Okay, ladies. I'm going to get super real with you. So feel free to scroll down to the recipe and ignore this benefit, if you don't want to read about your area.
Over 75% of us will deal with some sort of vaginal issue in our lifetime. You don't want to wait until it's too late to incorporate these types of foods in your diet. Have a little every day and you'll be a happier person. Prevention is key.
And how does this work exactly? Well, it's the whole bacteria thing. Our bad bacteria can sometimes take over the good kind. The more good you intake the more you're giving your body to combat the bad. And that's a good thing – obviously.
So, to recap, sauerkraut is my new favorite and I put it on everything I can. It's even better when it's homemade. There's just something so beautiful about the process.
Let's Get to Making this Sauerkraut
To be honest, I was a little worried when I got started.
Was I going to do this right?
What if bad bacteria grew on it?
Would it taste as good as purchased ones?
I was on a mission to recreate this amazing Michigan sauerkraut made by Cultured Love. This fermented superfood has always been a world away from the type of food I've eaten in my life. I never thought I'd eat it, let alone make it. But a little trip to Holland, Michigan changed all of that. And I've never looked back.
As I mentioned before, the process is so important. And it'll make you feel so accomplished when, after the fermentation process, you're enjoying your delicious garlicky sauerkraut.
When chopping the cabbage, make sure that you're cutting it into thin pieces. This will make the next part easier.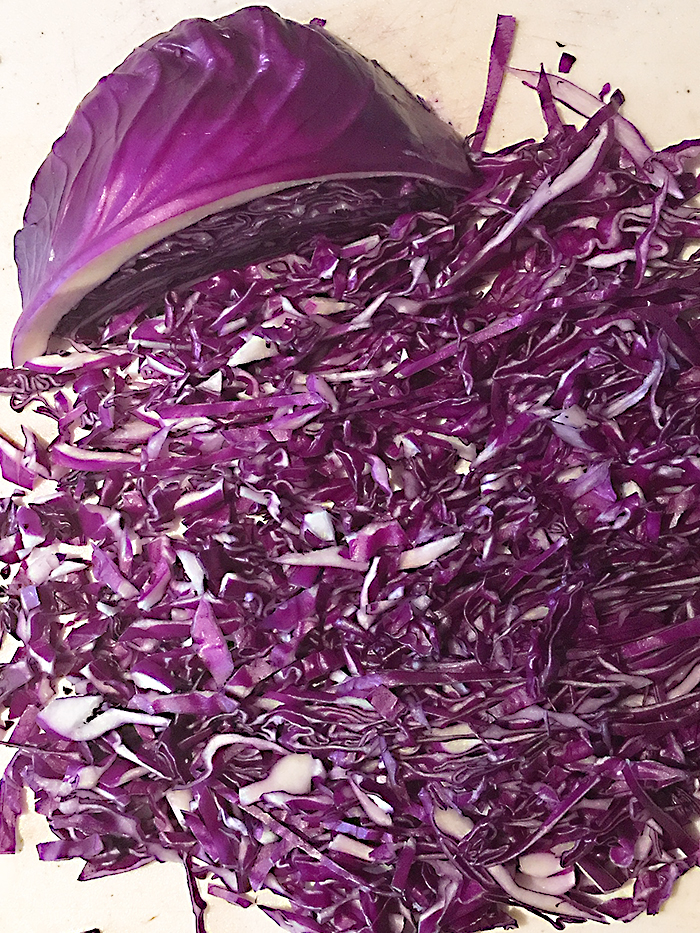 You're going to want to massage the cabbage with some sea salt. This helps release the juices from the cabbage that'll help with the fermentation process. And if you have a sous chef available, this would be the perfect time to tag them in. That's what I did cause ain't nobody got time for that. No seriously, my hands tend to cramp so my sous chef (cough cough Joe) really helped out!
Oh, one more thing, wear gloves when you're doing all the above or your fingers will turn purple. For real.
Once all that hard part is over, you're ready to put everything into your glass jar – juice and all.
---
Sources:
https://draxe.com/sauerkraut/
https://www.hyperbiotics.com/blogs/recent-articles/104467654-10-surprising-reasons-you-should-take-a-daily-probiotic
Print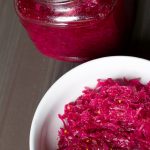 How to Make Garlicky Sauerkraut
---
Author:

Prep Time:

20 minutes

Cook Time:

0 minutes

Total Time:

20 minutes

Yield:

50

servings

1

x
Description
Sauerkraut is as amazing tasting as it is good for you. It's the perfect sour addition to any dish. And I really mean any! From your morning eggs to your chicken wrap, you can't go wrong with this delish side!
---
Scale
Ingredients
1

head purple cabbage

1/2 tbsp

sea salt (for massaging)

1

filtered water (enough to top off cabbage after massaging)

1

–

1/2

tbsp sea salt (for fermenting)

3

cloves garlic (for fermenting)

2 tsp

onion powder (for fermenting)

3 tsp

cayenne powder (optional, optional for fermenting)

1 qt

canning jar
---
Instructions
Chop up that cabbage into 1/8″ pieces – doesn't have to be perfectly even or thin.
If you have gloves, now is a good time to put them on so your hands and fingers don't turn blue.
Put chopped cabbage into a bowl with your 1/2 tbsp of sea salt and start massaging for about 10 minutes or so. You'll want to release all those great juices from the cabbage.
After you've released all those 'awesome for fermenting' juices, put all of that into your canning jar.
Every day, open the lid and release some of that air inside the jar. It's good for the fermentation process. After a week, open up the lid and (with a clean spoon) take some of the sauerkraut out and taste it! You'll know if it's ready.
Otherwise, ferment for another week or so, while checking every couple of days to taste test again.
---
Notes
Use organic ingredients whenever possible.
Category:

Side Dish

Cuisine:

German