Morocco was the first non-westernized country I visited. It was far removed, culturally, from any other place I'd been up to that point.
However, I have to say that terrain-wise, Mexico and Morocco are similar. My dad is from la Sierra Madre Occidental in Durango, Mexico (pretty much an extension of the Rocky Mountains). Going through the Atlas Mountains in Morocco brought on a case of nostalgia for those childhood memories in the mountains of Mexico with my family.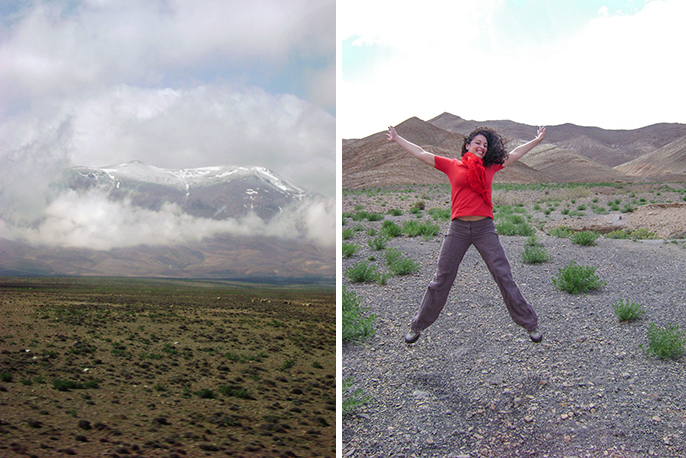 My trip to Morocco took place while I was studying abroad in Paris. It was offered through my program and, to me, it seemed like an ideal trip to take. Over Holy Week in 2007, when I'm usually celebrating Easter, I was in a country where Christian religions are in the minority. It was beautiful to experience a completely different country. It changed the way I saw the world and helped me to understand another totally unique culture first hand.
Going through the vibrant markets in Marrakesh, I couldn't help but think of those I had wandered through in Mexico. It only reminded me that the more you travel the more you realize not only the differences but the similarities in cultures and landscapes.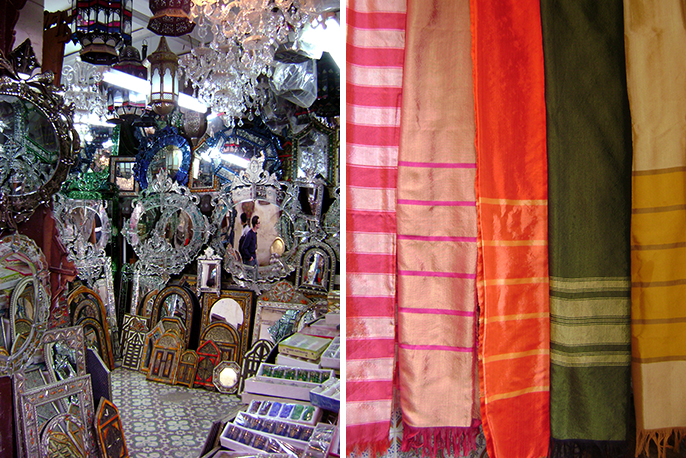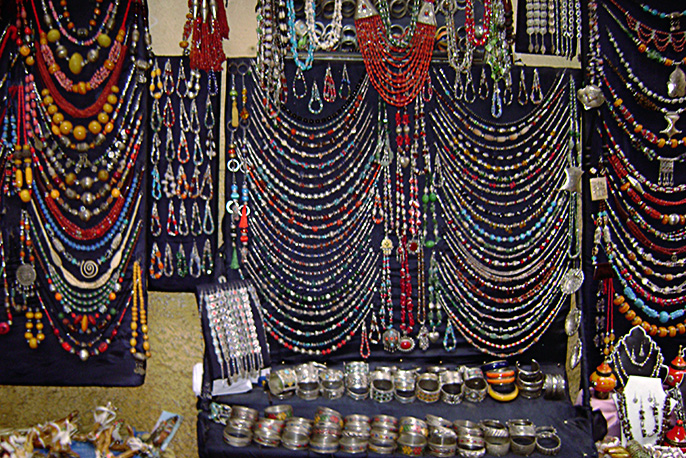 The warm, loving and welcoming nature that I knew growing up in my family was suddenly part of the way I was being treated on a daily basis during my week-long trip.
One particular day while driving through a pretty desolate area of Morocco, we stopped in what appeared to be an abandoned village. As we're going through the ruins, our tour guide spoke with a local that lived near the area. He invited us back to his home where his wife would prepare us some tea.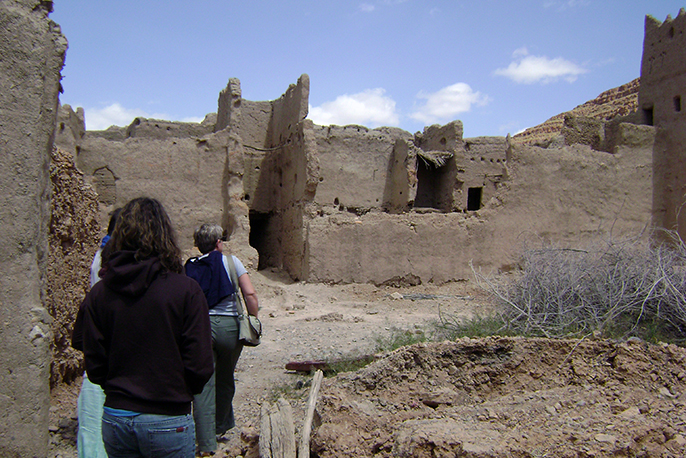 See, this is normal. In fact, he considered it an honor to host us, if only for a short while. We walked over to his home and all 10+ of us sat in their small but cozy living room where the local's wife served us tea and bread. It was a heartwarming and awesome experience that I will forever cherish.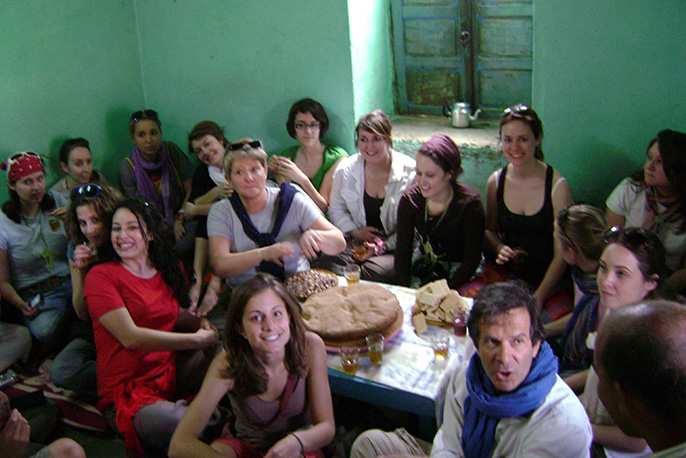 In honor of that nice man and his wonderful wife, I bring you this dish; which, if I'm 100% honest, I didn't eat once in Morocco. I actually tried a variation of it in a Chicago restaurant. After doing some research on it, I found out that Shakshuka's origins are North African. Depending on the country, ingredients vary a bit.
This has become a breakfast staple in my house and I'm sure it will become one in yours too! There's just one catch (or three) you gotta love tomatoes… and spices… and eggs. Using heirloom tomatoes (borrowed from my dad's garden), this meal truly is a fusion of two cultures that I can't help but compare.
Print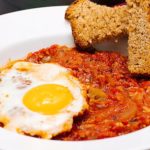 Rustic Heirloom Shakshuka
---
Author:

Prep Time:

20 minutes

Cook Time:

35 minutes

Total Time:

55 minutes

Yield:

4

people

1

x
Description
Move over, denver omelette! This savory meal will kick your favorite breakfast out of first place in no time. Tomatoes + Spices + Eggs = Heaven!
---
Scale
Ingredients
1 tbsp

vegan butter

1/2

large white onion

4

large garlic cloves ((did I say I love garlic?))

128 oz

can diced fire roasted tomatoes

15

–

20

regular cherry tomatoes

1

large heirloom tomato ((these can be big, so use

half of a

huge one))

1 tsp

himalayan pink salt ((start with this and add more to taste))

1/2 tsp

black pepper ((start with this and add more to taste))

1 tsp

paprika

1 tsp

cumin ((optional*))

6

medium organic eggs
---
Instructions
Preheat oven to 350 degrees.
Chop up all the veggies. The bigger the pieces the more rustic, so remember this in case you are cooking for someone who hates the consistency of vegetables, but likes the taste. You can even go as far as blending everything in a food processor/blender for a pulse or two when you're done cooking everything.
Add a tablespoon of vegan butter (Earth Balance is my choice) to a large cast iron skillet on medium heat.
Throw in all the onions and cook until translucent.
Add in the garlic and mix in with the onion.
Next you'll want to add the hierloom, grape or vine tomatoes (key is to put the fresh tomatoes first).
After about 5 minutes of sautéing the tomatoes with onion and garlic, add the canned tomato, in a single layer, along with the tomato juice in the can. Let this cook for another 5-10 min. The trick is to let the fresh tomatoes soften a bit to match the texture of the canned ones.
Add in all the spices and mix everything up.
You'll want to allow this to cook on medium to low heat for about 10-15 min. Use a masher to crush the veggies together and further bring out their unique flavors.
It's time to get cracking! Crack 6 eggs one at a time and add them to the top of the veggies. Do not let the egg touch the cast iron skillet. They have a tendency to stick to it if the skillet is not prepped properly.
By now the oven should've completed preheating and you'll put your creation in there for 5 minutes (over easy), 8 minutes (over medium), 11 minutes(over hard), and if you need more time than that, shame on you!
If you're making this for less people, please keep an eye on the time (and the eggs!) to ensure proper level of runny-ness.
---
Notes
Make it vegan: omit the egg and enjoy with your favorite vegan bread.
Use organic ingredients whenever possible.
Category:

Breakfast

Cuisine:

Moroccan