When I was a kid, walking into my house after school was always a sensory experience. As I'd approach my house, I'd play a game in my head. "I bet I know what Mami or Papi is making for dinner."
If I smelled an abundance of spices, it was always salsa ranchera. If I smelled fried food, it was bolas de papa (potato fritters). If I smelled something cheesy, it was tacos de papa con queso (potato tacos with cheese).
But the one ingredient that stood out among the rest was chile de árbol. The spicy heat would cut right into my mouth, down my throat, into my lungs and would trigger a relentless cough. That's when I'd run to my room, away from the kitchen.
I always wondered how my parents were able to do it. Stand in that kitchen with all those chiles and NOT cough. "I'll be that way when I'm a mom" I thought to myself. I'm sure it was a combination of love of cooking and love for us.
Come to find out they were totally always coughing. I was just too far away to hear!
Although the food my parents would cook didn't necessarily have the most glamorous names nor were they the healthiest, some of my favorite memories revolve around them.
Except the chiles, of course, I didn't particularly like the incessant coughing. But I LOVED eating them. Spicy foods have and will always be my favorite.
Some may say that it's directly related to these memories. Others would say that I'm some kind of masochist. I say that it's ingrained in my very being, running through my blood, in my genes … A little intense, huh?
In my home, as in many other Mexican homes, chile de arbol is toasted on the the stovetop – the source of the coughing. They're then used in whatever you want! So, for me, that means everything!
Today's recipe isn't a complicated one. It's certainly reserved for those who can't get enough spice in their life. So, slam it to the left. Shake it to the right and prepare yourself for the best refried (black) beans you've ever had.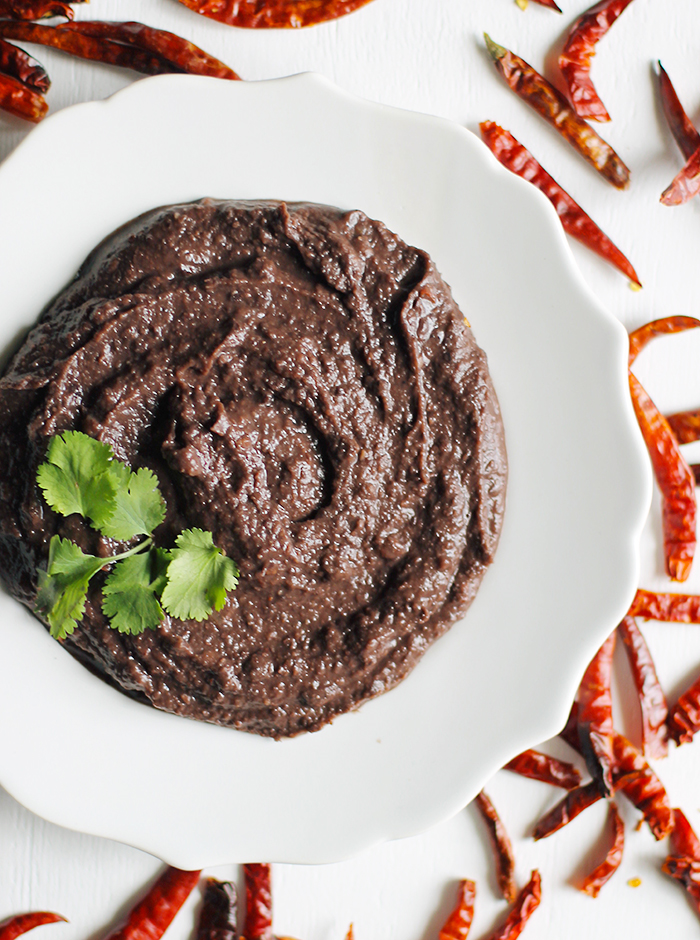 Print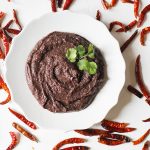 Spicy Garlic Refried Black Beans
---
Author:

Prep Time:

15 minutes

Cook Time:

2.5 hours

Total Time:

46 minute

Yield:

4

people

1

x
Description
Can garlic ever do a dish wrong? Never. And this refried bean recipe is no different. With the various flavor tones, it'll quickly become a household favorite.
---
Scale
Ingredients
Cooking the beans
12 ounce

s uncooked black beans

3/4

head garlic

3/4 tbsp

himalayan pink salt
Frying the beans
0.5 tbsp

avocado oil

2

whole chile de arbol (add

2

more if you love spicy foods)

1/2

organic yellow onion (not sweet)

3/4 tsp

garlic powder (add more if you love garlic)
cooked beans (from "cooking the beans" section)
---
Instructions
Cooking the beans
Open up that black bean bag and empty them out by the handfuls, while carefully looking out for any small stones or unpleasant looking beans.
Next, put them in a deep pot and rinse them with water, twice.
Fill the pot with water. The amount of water depends on how liquidy you want the final result. I'd suggest at twice the amount of beans.
Add in the 3/4 head of garlic and tablespoon of salt and heat on high to a rolling boil.
Reduce heat to low and cook for about 6-7 hours. I do this overnight, which might not be the safest thing, but haven't had an issue so far.
Refrying the beans
Think about how thick you want your refried beans. If you like them to be thick, get rid of some of that water, but save it in case you need to add more while cooking.
Add half of the avocado oil to a hot pan and fry chile de arbol until toasted. Get ready, cause this is when you may cough.
Remove the chiles and add to your pot of beans.
Add the rest of the oil and onions to the frying pan and fry until golden brown.
Add garlic powder and fry with onions for about 30 seconds or so.
Add onion mixture to the pot of beans, cover, and cook. Taste after about 5 minutes of cooking. If it needs more salt, add more. Every 5 minutes or so, check on beans and stir to ensure that they don't get stuck to the bottom.
Once the beans are boiling and the white-ish foam from the top is gone, lower heat. Remove chiles to make your beans less spicy.
Use an immersion blender or a potato masher to blend/mash the beans until desired consistency.
---
Notes
Use organic ingredients whenever possible.
Category:

Side Dish

Cuisine:

Mexican