Bourbon street. Spicy food. Hurricanes (the kind you drink, of course). Popov*. Cellphones in hair. A palm reader predicting my death. All these things and more come to mind when I look back on New Orleans. Okay, I'm sure the last three are really more applicable to my direct experience, but you get the point.
The thought of New Orleans brings back memories of my carefree college days: spring break to be exact. A few of us girls decided to drive down from Chicago and spend a few days in a city where we could finally do what we've been wanting to do for a long time: drink in public. No, but seriously, it was a trip where we not only confirmed our love for Ryan Cabrera (where is he now anyway**?) but we formed friendships that have continued well into our adult lives.
People certainly don't lie when they say that New Orleans is the big easy. Everyone is happy, lively and everything is just vibrant. Music is blaring out of every bar on Bourbon street, beads are flying everywhere and booze is flowing a plenty. Oh wait, this is a travel AND food blog right? So I should definitely get to it…
First, I have a confession: food was not our forté on this trip. I really wish I could tell you that I had the greatest po' boy at Parkway on Toulouse and Hagan or that the crawfish étouffée at Chartres House is better than at Bon Ton Cafe, but alas, we were in college and our main concern was … well, the whole drinking in public thing. Even so, I'm completely happy with our experience. It was awesome and we shared many countless memories together.
Regardless of the above, the food did provide a nice change from traditional American fare. I loved the variety of spices and ingredients. Cajun and creole food quickly shot up to the top 5 of my favorite cuisines after this trip.
The recipe you'll find below is an escape from your every day meal. You'll get the best of both worlds with this version of Louisiana Gumbo: a nutritious meal and a killer hangover cure – just make sure you're adding in plenty of Louisi-Acha hot sauce!
If made at the quantity below, you'll be enjoying it for days or you can just freeze the leftovers in quart freezer bags and you'll have an instant meal in no time!
Notes:
*Popov is that kind of embarrassing vodka drink that only tastes good on a college budget. But, oh man, did it serve its purpose.
**After his high profile relationship with Ashlee Simpson, Ryan Cabrera his career seemed to be on the way down (see what I did there?) He now resides in LA while trying to revamp his music career under the management of good ol' papa Joe.
Print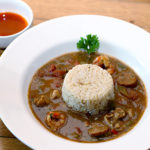 Louisiana Gumbo
---
Author:

Prep Time:

20 minutes

Cook Time:

80 minutes

Total Time:

1 hour 40 minutes

Yield:

10

people

1

x
Description
This gumbo offers a plethora of delicious flavors. Spicy, savory and smooth, it will capture your attention from the first bite!
---
Scale
Ingredients
Meats
1

lb Applegate andouille sausage

1

lb wild shrimp

1/2

lb organic chicken, free-range — if possible
GF "Roux"
1/2 cup

avocado oil

3/4 cup

brown rice flour
Chopped Vegetables
2 1/2 cup

onions

1 cup

green bell pepper

1 cup

red bell pepper

1 cup

chopped celery

1

fresno red pepper

1

serrano pepper

5

garlic cloves, minced
Spices + Herbs
2

bay leaves

1/2 tsp

black pepper

1 tbsp

himalayan pink salt

1 tsp

fresh thyme

3/4 cup

fresh parsley
Packaged
6 cup

s organic chicken stock

1

can diced tomatoes, 14.5 oz can

2 tbsp

Lousi-acha hot sauce

5 cup

s cooked brown rice
---
Instructions
Cut up chicken and sausage into small pieces.
Chop veggies under the "Chopped Vegetables" group and, while you're at it, chop up the thyme and parsley too.
Get everything else prepared – measure out the chicken stock, make the hot sauce, open up that can of tomatoes, get the bay leaves out of the packaging, have your salt and pepper measured out and flour/oil measured as well. The more prepared you are in the beginning, the easier the entire process will be.
Now you're ready to cook (finally)! Get a heavy big pot on the stove and throw in about a tablespoon of cooking oil.
Once that heats up a bit, add in the chicken and sausage. Cook until you get a nice browning on the meat AND the pot. You're going to want to get some of the meat stuck to the bottom of the pot. This give the gumbo more flavor. Your taste buds will thank you later!
Remove the meat from the pot and set aside.
Now you're going to make the roux in that same pot. Add the 1/2 c of cooking oil and once that heats up for a couple of minutes, add the flour. Keep cooking the flour on low to medium heat (gauge it as you go along). You're going to want to cook this for 10-15 minutes, while scraping the bottom of the pot.
Add chopped vegetables and cook for about 10 minutes on low heat.
Then you're going to add the chicken stock slowly. Let it blend completely.
Add everything else (EXCEPT for the shrimp and parsley).
Set to low heat and cover the pot for about 30 minutes. Then, open that up – for a taste of course. Now is the time you'll want to add any additional salt or pepper, if you feel it's needed. It would be a great idea to make some brown rice at this time.
Continue to cook with the lid off for another 30 minutes, while stirring occasionally.
Add the shrimp and parsley. Cook for another 10-15 minutes. Let those flavors really sink in.
Serve that gumbo first in a bowl then add rice. The best proportion is 1.5 cup of gumbo to 0.5 cup of rice.
ENJOY!
---
Notes
Bare with me.. this recipe seems to be very long, but once you get everything chopped and prepped, it's relatively easy and serves as a tasty air freshener in your home kitchen.
Use organic ingredients whenever possible.
Recipe above is inspired by a recipe from Gumbo Cooking.
Category:

Appetizer, Entree, Side Dish

Cuisine:

American