I'll be the first to admit that I didn't spend enough time in England. It was four nights to be exact. But it definitely left an impression. I arrived in London via the Eurostar.  Have you ever ridden it? I was super excited to be under the English Channel.. like for real.. under the sea.
However, when the conductor announced that we were going under, I have to admit that I felt just a little claustrophobic . All I could see was darkness for about 20 minutes of the 2 hour ride. Coming up on the other side, from one country to another, was like a scene straight out of a movie. You're in the British countryside and it may look similar to the French countryside but just feels different.
I only got to spend a few hours in London since I had to take a bus over to Sheffield where my friends had just finished up their semester abroad at the same time I was in Paris. Even though the time spent in London wasn't enough, I was able to see how beautiful it is: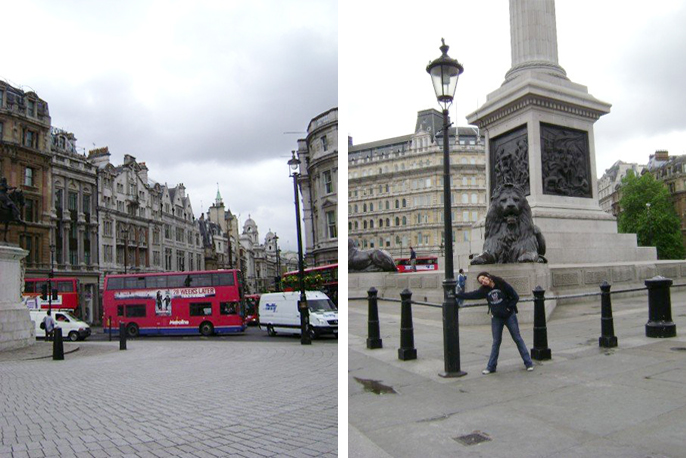 "Foggy London Town" Left: Double-decker bus that I so desperately wanted to see (and capture on film); Right: Me awkwardly standing next to a random light post without any meaning whatsoever…
Sheffield, about a 2.5 hour bus ride from London, is a city that doesn't really feel like a city at all. To me, it was more like a small town and made me feel at home from the moment I arrived. Of course, just like in any other city in England, it seemed right to head over to the pub at 10 am. My friends and I made no exception.
We commiserated over our study abroad experiences and had the pleasure of catching up after months apart. I guess that's the reason why my photos were more, how should I say this … social ones? They involved a lot of goofy faces, beer, and, well, more beer. Even so, I did manage to capture a few good ones, although, they didn't really do much justice to the true beauty of Sheffield: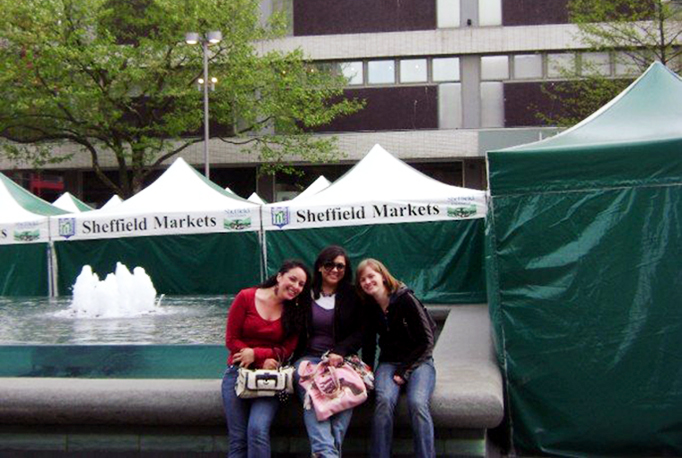 With the lovely ladies I went to visit <3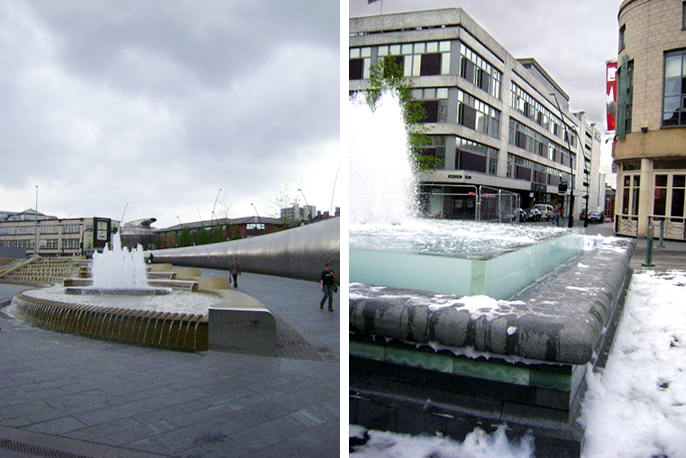 Left: Sheffield Station fountain; Right: I honestly can't remember the name of this fountain (it was 10 years ago, give me a break), but the important thing is the foam. Look at all that foam.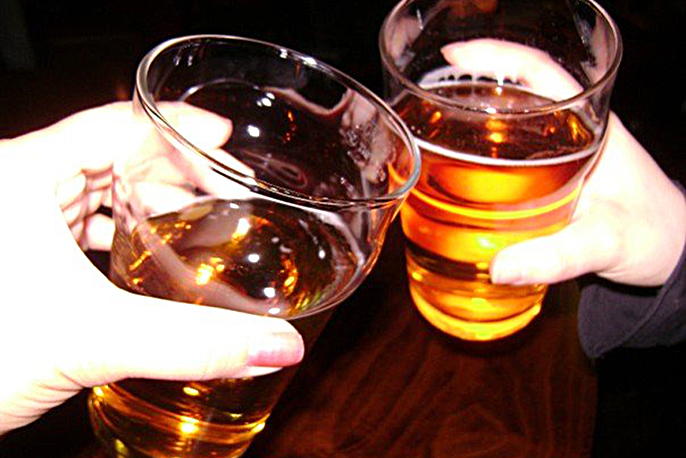 There are plenty more where this came from. Let's just say this was the least incriminating photo.
And now on to the food…
The British sure do know how to do fish and chips. We all know that it's a staple dish in the UK. It's all about texture and flavor in making the perfect English-style fish. Until recently, I hadn't eaten it. And I didn't realize how much I missed it!
That's why I was in dire need of creating this recipe. It's got everything: a mild fish flavor wrapped in a delectably crispy outer crust. Make this recipe for someone who is lucky enough to not have any food intolerances. They won't be able to taste the difference and your bellies will thank you!
Exhibit A: Joe, who likes the idea of eating more seafood, but makes a weird face whenever I suggest it for dinner, thought this was the best meal I ever made. I think that says a lot 🙂
Almost forgot, try it with my take on "chips", Oven Baked Potato Chips that is. Which, for the record, is categorized under American due to the fact they are cut in discs 😉
Print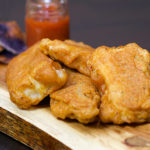 English-Style Fish
---
Author:

Prep Time:

15 minutes

Cook Time:

15 minutes

Total Time:

30 minutes

Yield:

3

people

1

x
Description
Flavorful. Juicy. Crispy. This fried fish recipe has it all! It's inspired by the good ol' English fish and chips meal, but with my own take on ingredients. You'll want to make this tonight!
---
Scale
Ingredients
Cod prep + frying
12 oz

wild-caught cod ((other white fish works like haddock, pollock, or sole))

1 cup

filtered water

1 tbsp

sea salt

1/2 cup

avocado oil ((for frying – may need more. see instructions for details))
Wet mix
1 cup

s gluten free flour mix

1 tsp

paprika

1 tsp

garlic powder

1 tsp

sea salt

2 tsp

mustard

1/2 cup

almond milk

1

whole egg
Dry mix
1/4 cup

gluten free flour

1/2 tsp

sea salt

1 tsp

black pepper
---
Instructions
Brining the cod
For about 10 minutes brine the cod in water and salt mix.
Fillet the cod into 4 oz pieces, removing all bones if necessary.
Mix it up!
Mix together all dry ingredients in one bowl.
In a separate bowl, mix all wet ingredients with a whisk for about 2-3 minutes. Slowly add the flour and spice mix to milk, egg and mustard mix. Make sure it's the consistency of a thick heavy cream and doesn't have any lumps before proceeding to the next step.
Dip each fillet in the dry ingredient bowl first, then into the wet ingredient bowl. Tapping excess dry ingredients prior to dipping into wet.
Fry baby, fry!
Heat about 1/2 cup of avocado oil in a deep frying pan. The oil should come up about 1/2 inch to an inch, depending on how thick your fish fillets are. You'll want a little of the top of the fish fillet to show while frying.
To minimize the amount oil sticking to the fillets once you take them out, make sure the oil is really hot before frying.
Put fillets into oil and fry for up to 2 minutes on each side, then take them out. You can let them rest on a plate with paper towels on top to remove excess oil.
Serve with "chips", homemade ketchup, and apple cider vinegar. Recipe for "chips" are also up on this site (See Recipe notes).
---
Notes
Use organic ingredients whenever possible
Pairs best with Oven Baked Potato Chips.
Make it vegan: substitute fish with tofu. First, brine the tofu in hot, salted water for 15 minutes. Then, lightly pan-fry for 30 seconds each side before proceeding with recipe instructions above.
Category:

Appetizer, Entree

Cuisine:

English