Let me take you through the various components that make up this delish little dish I like to simply call Taco Pizza.
Let's start with the crust.
The delicious crust can really be whatever you want (what you really really want)! That's what's amazing about this. Whether you have a recipe you know and love or prefer to buy a premade crust, you're free to explore however you want.
What's the one I'm using? It's made out of almond flour so it's low on the glycemic index and takes away any possibility of carb overload. And, of course, it doesn't compromise on flavor. Here's the recipe from the Maximized Living blog.
I made mine vegan by using Bob Red Mills egg replacement. Since I'm removing the liquid component to this recipe, if you decide to make this vegan, you'll want to add in a little oil or water to make up for that.
Let's Get (Pizza) Saucy
This isn't your run-of-the-mill pizza sauce. Oh no it's not. This here has got all the goods to truly make this a delicious experience. The beauty of this sauce is that it combines a harmonious blend of Italy and Mexico. But just like the crust – I got options. And what's the top one?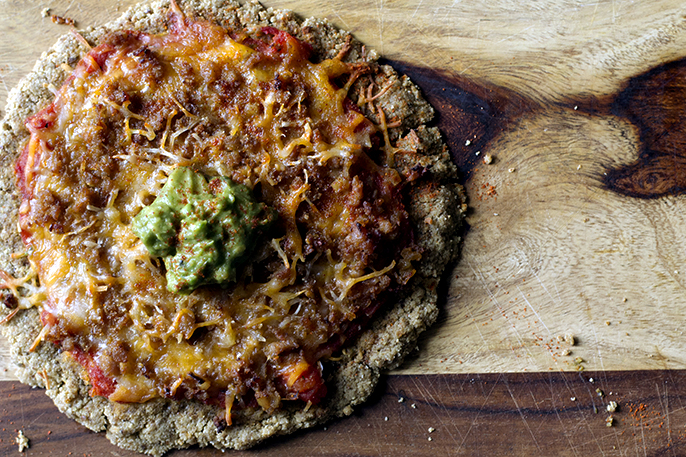 You tell me.
To make the sauce your own, read my recipe and experiment.
To make the sauce your own, buy a bottle of your favorite pizza sauce and experiment.
To make the sauce your own, buy a bottle of your favorite salsa and experiment.
Catching my drift? Just make it your own. Or don't.
I know what you're thinking. How the heck am I supposed to experiment and make it my own? I thought you're supposed to tell me what to do! Isn't this a recipe?
I got you. Just read below and follow along.
The Toppings
Cheese. Cheese. And more cheese. Yup. I'm talking Chihuahua, mozzarella, goat, vegan. whatever you're diggin', you can just sprinkle that good stuff on your pizza.
And the veggies? Well, you can just mince those bad boys and sprinkle the shit outta that cheesy pizza.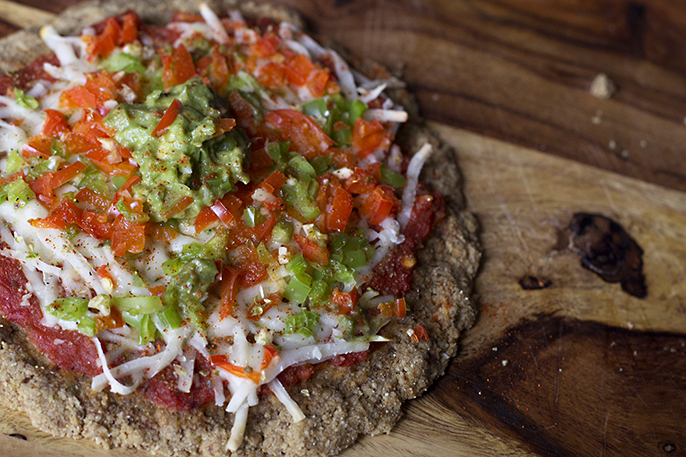 Looking to make this meaty? Go ahead. Throw some (pre-cooked) taco meat on and really play into the taco flavors you know and love.
Still with me? I hope so. Now go make your own taco pizza. And let me know how it goes.
Print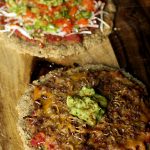 Taco Pizzas for Two
---
Author:

Prep Time:

20 minutes

Cook Time:

40 minutes

Total Time:

1 hour

Yield:

2

people

1

x
Description
Tacos meet pizza in these two very different and yet very familiar recipes. It may involve several steps but it's all well worth it!
---
Scale
Ingredients
Vegan Taco Pizza
1/8

red bell pepper (diced)

1/8

green bell pepper (diced)

1

clove garlic (minced)

1

pinch adobo seasoning

1

handful dairy-free shredded cheese
Taco Pizza
1 ounce

organic ground turkey meat

1/8

onion

1

clove garlic

1/4 tsp

paprika

1/2

tsp sea salt

1

pinch cumin

1 ounce

s garlic pasta sauce

1/2 ounce

salsa ranchera (<--use my recipe)

1

handful shredded Mexican blend cheese
Other Ingredients
2

5-inch gluten-free flatbread or pizza bread (<--here's the recipe I used)

2 ounce

s garlic pasta or pizza sauce

1 ounce

salsa ranchera

1/2 tsp

adobo seasoning (Simply Organic is best)

1/2 cup

guacamole (<--use my recipe)
---
Instructions
Whether you decide to purchase a flatbread or pizza bread or decide to make your own, be sure that you keep in mind the size of the bread. All ingredients in each group are measured out to fit a 5-inch small personal pizza.
IF MAKING YOUR OWN DOUGH: Preheat oven to 350. If you're using the pizza bread recipe above, instead of making one ball out of the dough, make two – one for each pizza. Flatten both so they're about 1/4 of an inch and bake for 10 minutes.
Cook pasta sauce, salsa, and adobo seasoning for about 5 minutes.
VEGAN: Combine a pinch of adobo seasoning with bell peppers and garlic. Once the dough is cooked, top it! Get creative. But if you're looking for instructions, start with the sauce, then shredded vegan cheese, then veggies.
TACO PIZZA: Cook onions on a frying pan until translucent then add minced garlic. Combine spices with turkey meat and add to pan. Cook thoroughly.
TACO PIZZA: Now it's time to top your cooked dough. Again, start with the sauce, then add the Mexican shredded cheese and top with a bunch of turkey meat.
Bake both pizzas for 15-20 minutes until cheese is golden brown (on Taco Pizza) and veggies are just a tad charred (Vegan Taco Pizza).
Top pizzas with guacamole and call it a day!
---
Notes
Use organic ingredients whenever possible.
Category:

Appetizer, Entree

Cuisine:

Italian, Mexican