"I remember the moment I first realized I've been living my whole life in black and white. It was like discovering a color I never knew existed before. A whole new crayon box full of colors. That was it for me. From then on, there was no putting the pieces back together. No going home. Things were different now. Asia had ruined me for my old life." –  Anthony Bourdain
When was the last time you saw something for the first time? Moments like that are rare in our day-to-day lives, but when they happen, damn, are they awesome. That first second you discover something new, you're a kid again: wide-eyed and excited. I had countless of these moments in Thailand; in fact, it was like one giant two-week magical experience where all was new, all was fresh, all was right in the world.
Seeing the old and new, right across the street from each other, created a dichotomy of worlds. From 7-11s on one corner to ancient Buddhist ruins on the next, Thailand was filled with polar opposites and it was the ultimate eye candy.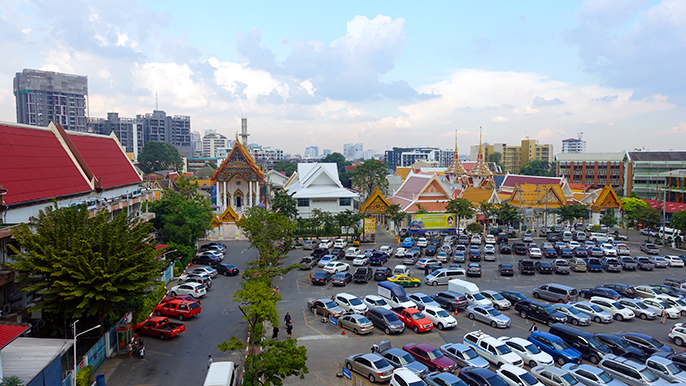 It didn't stop at monuments or storefronts, food was the end all be all. I thought I loved Thai food in the States, but getting my first bite of truly authentic Thai cuisine sent my taste buds for a ride I couldn't even imagine. Sweet, tangy, salty, spicy, sour – you wanna taste a flavor? They got it!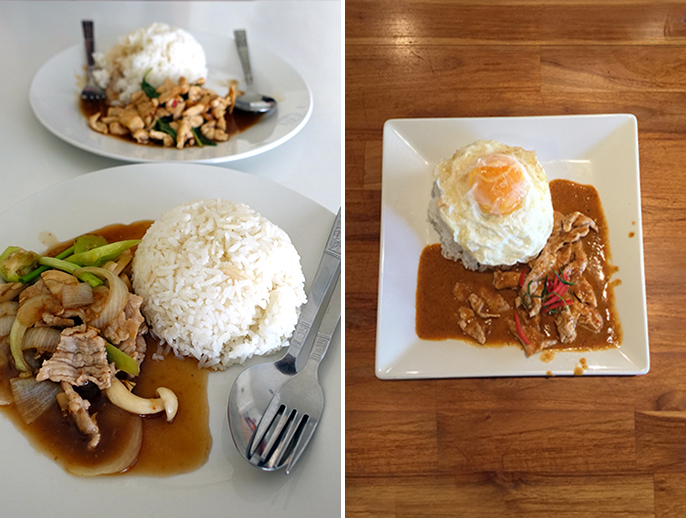 Left: Mushroom Chicken; Right: Curried Pork, Rice & overreasy egg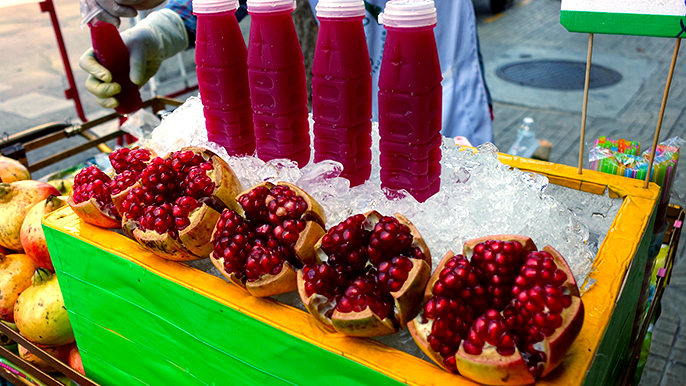 Pomegranate cart
J (the hubby) and I ventured on a 25-hour plane ride to a country with many distinct experiences; three to be exact (on our trip anyway). I'm jumping right into our second stop, cause who likes sequential order anyway? Chiang Mai is a city in Northern Thailand and it was my favorite. It had so much to offer and so much more we didn't get to see. We stayed off of Nimmanhaemin Road and although we were away from the Old City buzz, we got comfortable in our little Airbnb apartment.
We visited Baanchang Elephant Park where we fed, rode, and bathed those gentle giants (shout out to our girl, Lily…that was our elephant's name). It was important to make sure we went to a sanctuary as elephants are often mistreated in other places. Baanchang does an excellent job at caring for these magnificent animals. They are treated humanely on a daily basis and we got to see that for ourselves.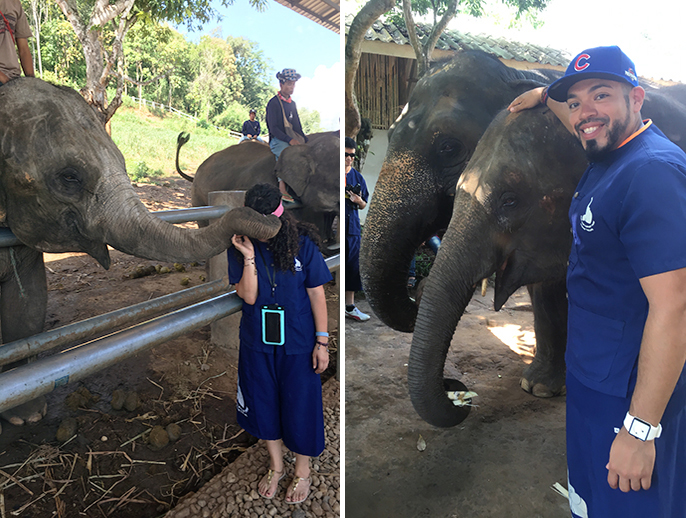 Back to the food, I can't tell you enough how amazing Thai food in Thailand is. And, as amazing as the food may be, there were times when I felt a little overwhelmed or anxious trying to figure out what I was going to eat.  Traveling and making sure I'm avoiding certain foods can be quite the challenge – especially with the language barrier. Of course, cooking was an option but for those meals when it wasn't, I had to make the best decision I could and remember to ENJOY all that Thailand had to offer.
With that said, one experience I couldn't pass up was a cooking class. We chose to go to TomYum Thai Cooking School. Oun was amazing, as was his girlfriend, Kae. They run this business out of their spacious home. First, we took a trip to the market to pick up our ingredients. Then, we were shuttled to their house where the cooking began. We made spring rolls, tom yum soup, pad thai, cashew nut chicken, papaya salad, green curry and finally, khao soi. Mmmm, I'm getting hungry just thinking about it.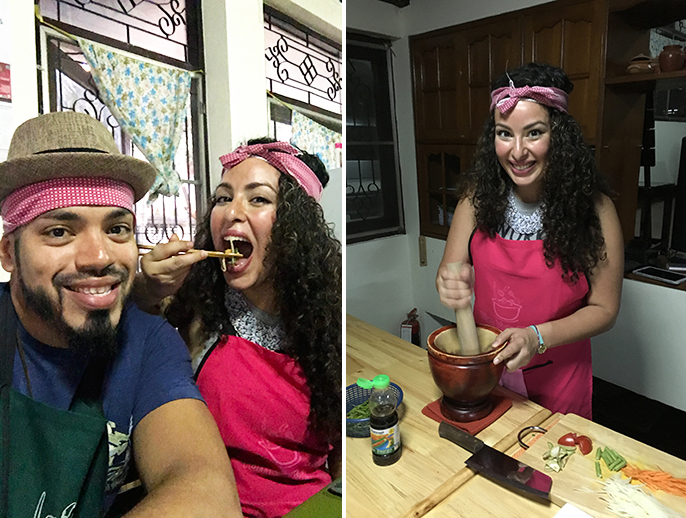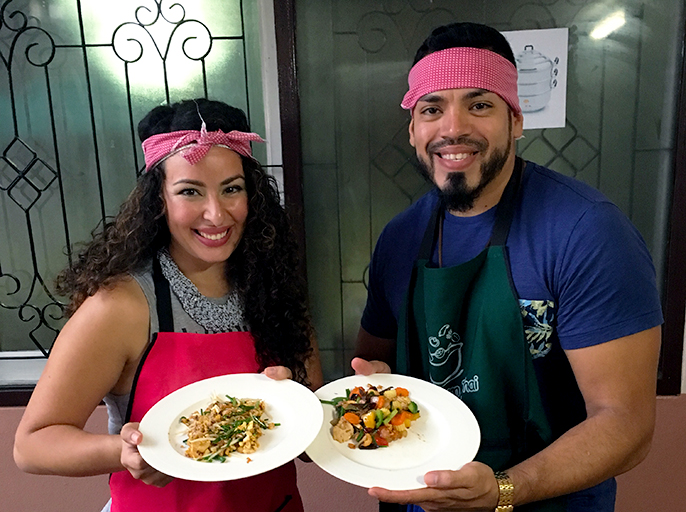 After the class, I was excited to recreate these tasty dishes at home. I'm starting with a very northern Thai dish – Khao Soi. This Burmese-influenced dish is spicy, has this delectable depth to its flavor profile, and has so much goodness to offer your body. Spices like cumin, coriander, black peppercorn, turmeric and curry powder help your body's digestion, reduce inflammation, and provide you with essential vitamins and minerals (Vitamin K, C, B6, Manganese, Iron, Copper). And I'm not gonna lie, this is the perfect hangover soup!
This dish is not for the faint of heart. It takes a lot of work work work work work work (love me some RiRi). From the chopping to the smashing to the puffing (you'll see what I'm talking about), you're gonna have to earn each irresistible bite; unless, of course, you happen to be related to a food blogger that does all the work and you reap all the benefits… But who's keeping track of that anyway 😉 It will make you sweat. It will make you cry – tears of joy, of course. But most of all, it will make you damn happy I went to Thailand.
Print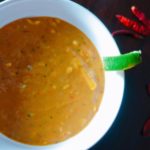 Kick Ass Khao Soi Curry Soup
---
Author:

Prep Time:

1 hour

Cook Time:

30 minutes

Total Time:

1 hour 30 minutes

Yield:

15

people

1

x
Description
This Thai curry dish is spicy, has this delectable depth to its flavor profile, and has so much goodness to offer your body.
---
Scale
Ingredients
Khao Soi Curry Paste
4 tbsp

cumin seeds

4 tsp

coriander seeds

4 tsp

black peppercorn seeds

15

dried thai chili peppers ((chopped, add less for less heat))

8 tbsp

garlic ((chopped))

1 1/2

large onions ((chopped))

8 tsp

turmeric ((chopped))

4 tsp

Bragg's liquid aminos

4 tsp

galangal

4

–

8

tsp curry powder ((depends on how much you love curry))

3 tbsp

avocado oil ((for roasting spices))
Khao Soi Ingredients
2

lbs organic chicken thighs or breast ((boneless or deboned))

32 oz

GF egg noodles

8

c coconut milk

4

–

8

tsp curry powder ((again, depends on how much you love curry))

4

fl oz honey or coconut palm sugar

4

fl oz vegan fish sauce (<–click there for super simple recipe)

2

fl oz avocado oil
Use as toppings
1

cilantro bunch

1 1/2

medium onions ((chopped))
lime ((to taste))
Bean thread topping
1

c avocado oil ((or another oil to deep fry – if using bean threads))

3.5 oz

Saifun bean threads
---
Instructions
Khao Soi Curry Paste
You'll want to reserve making this dish for when you're really really mad at someone/thing because you're going to use a mortar and pestle…Not just any mortar and pestle, one that is made of stone granite. I bought mine from Amazon (see recipe notes below for details) and it worked wonders.
Heat avocado oil over medium heat and add in coriander seeds, cumin seeds, chopped galangal, chopped dried chilis, chopped shallots/onions, and chopped turmeric.
Stir consistently for about 3-5 minutes. Keep an eye on the spices and make sure you don't burn them. You want to be sure the fresh ingredients soften a bit to make the mortar and pestle step easier.
Next, add ingredients to the mortar and pestle. If you're making half this recipe or less, it should all fit in the mortar and pestle mentioned in the recipe notes. If you're making the exact quantity listed, please be sure you have plenty of people to feed or you WILL be freezing this soup for winter. Also, it will make this next step seem a little hard.
Pound all roasted ingredients together for a long time. If you think you're done, you're not done. Do it some more. Like, for real. This step is SO important in making the flavors of the ingredients really fuse together. I'd say, for this particular recipe (12 people), it will take you about 20-30 minutes and you'll have to do this in two rounds since the roasted ingredients are a little much. See, this is where the being mad at someone thing comes in handy 🙂
Once you're around half way through, add in the curry powder and liquid aminos and keep pounding until the paste is very smooth. This is what it should look like when it's all ready to go.
Noodles of fun!
Cook egg noodles according to package instructions. Set aside.
Take a deep frying pot and add in cup of frying oil. You have to be sure the oil is very hot before proceeding to the next step. But don't burn the oil, either.
Add in Saifun uncooked noodles into the oil and watch the magic unfold.
After the noodles have finished puffing up, with a small pair of tongs, take the noodles out and place on a plate with paper towels on top to soak in excess oil.
Khao Soi Curry Soup
Heat 4 tbsp of avocado oil over medium heat. Once hot, add the khao soi curry paste and extra curry powder to fry it all up, while stirring.
After a couple minutes, gradually add coconut milk and keep stirring. You should start to smell the amazing-ness of khao soi!
Add in the chicken (omit if vegan). Mix it in well. Keep cooking until chicken is soft and tender.
Season with vegan fish sauce and sugar (or honey).
Preparing the bowl
Prepare your bowls by adding the cooked egg noodles in each one. Pour the Khao Soi delishousness over the noodles and top with fried Saifun noodles, cilantro, chopped onions, and lime. Add as much or as little as you want.
---
Notes
Use organic ingredients whenever possible.
Purchase your own mortar and pestle from Amazon. This one holds 8 cups .. or so it says. It holds a little less than that, but for the recipe above, I had to make the curry in two rounds.
Recipe is inspired by the cooking class we took in Chiang Mai at TomYum Thai Cooking School.
Category:

Entree, Side Dish

Cuisine:

Thai