Ahhh, Pah-reee! The city of lights or as I like to call it, the place where my heart resides. It's where I fell in love, where I understood myself better than ever before, where I felt the most alone – yet the most together, and where I'd live again in a heartbeat. There's no doubt that Paris is the best city I've traveled to thus far. There's a certain mystique in the air that I haven't been able to feel anywhere else.
If I'm totally honest with myself, my near obsessive feelings for this city are largely due to the time in my life I lived there. The carefree days of college, which included the beauty of not knowing what the future held for me, was such a monumental time in my life and one that has been hard to replicate ever since. Even so, and I'm sure anyone who has been there would agree, it is one of the most beautiful cities.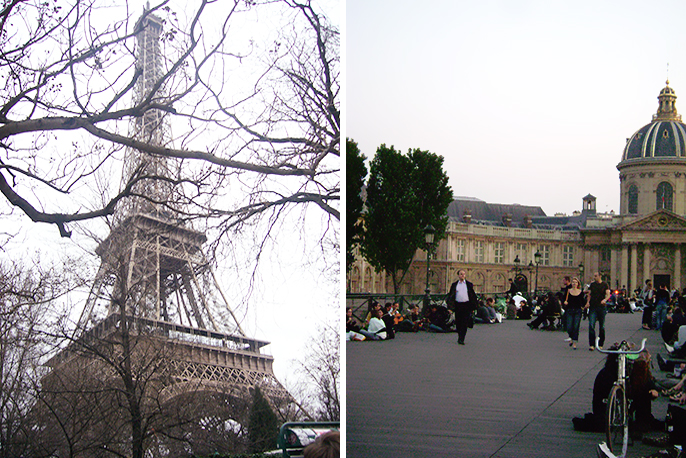 For five months, I rode the metro, walked down the Champs-Elysees with a baguette or crepe in hand while getting a fleeting glimpse of the Arc-de-Triomphe, and constantly trying to not flip my shit in excitement at the thought that this was real life.
Now, as you probably guessed, I love crepes. Literally, not a day went by that I didn't sink my teeth into a banana-nutella one (or two). Those delectable thin "pancakes", along with an obscene amount of wine, cheese and bread (hey, I was in college remember?) were the reasons why I gained about 15 pounds – pounds I do not regret. You know how people say that after you have a child your body will never be the same? Well, I'd like for them to spend 5 months in the gastronomic capital of the world! Yup, never the same, but worth every bite. JK, mommies, I know nothing compares to growing a human.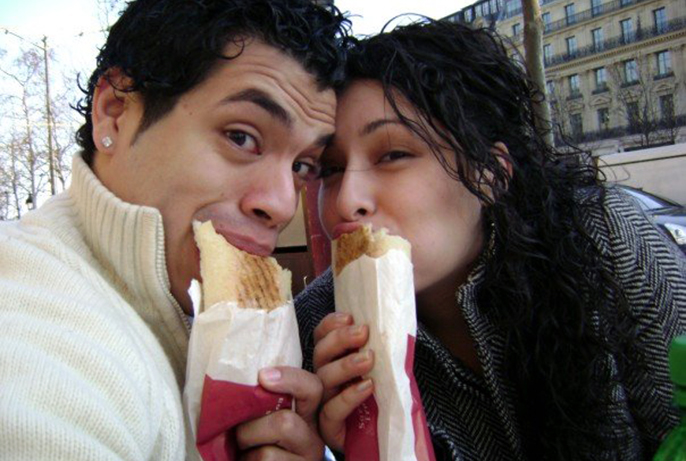 One of the MANY baguettes consumed, but this one was very special indeed – the first shared with this special guy.
If I could pinpoint a time in my life where my stomach woes took a turn for the worst, it was when I came back from my semester abroad. I'm not sure if the food is less processed in Europe and upon my return, my body couldn't handle the difference, but it was really downhill from then on. I mean, do you ever really go up from Paris, anyway?
Once I played around with my diet to see what was going on, I felt that removing gluten and dairy helped. It was rather daunting when I realized that I had to avoid crepes along with, what felt like, a million other food items. But, if you learn one thing about me it should be that I am resilient. I'll do what it takes to feel better in my own body AND enjoy my food. I mean, hello, have you seen this blog? As luck would have it and as the years went by since my return from Paris, I realized I could eat crepes again! In a much different form and sometimes different consistency, but still, CREPES!
The Buckwheat Blossom Crepe recipe below is for all (you guessed it) buckwheat lovers out there. Its nutty and complex flavor definitely adds something new to your typical crepes. A splash of orange blossom water give it a nice subtle orange flavor. To create a more pliable crepe, mix 3/4 c of your favorite gluten free flour blend with 3/4 c  buckwheat flour instead. Hope you enjoy!
Print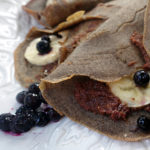 Buckwheat Blossom Crepes
---
Author:

Prep Time:

10 minutes

Cook Time:

45 minutes

Total Time:

55 minutes

Yield:

12

crepes

1

x
Description
These crepes are a nutty version of your old favorite. Buckwheat flour and orange blossom water give them a little bit of an edge that is sure to please!
---
Scale
Ingredients
1 1/2

c buckwheat flour (glu

ten

free)

3

eggs

1/4

c olive oil

3/4

c almond milk

1

c water

1/4 tsp

himalayan pink salt

1/2 tbsp

orange blossom water (add more if flavor is pleasant)

24 tbsp

homemade nutella (

2 tbsp

per crepe)

6

bananas (1/2 banana per crepe)
vegan butter (for cooking)
---
Instructions
Combine eggs, olive oil, almond milk, water, and orange blossom water in a medium bowl.
Add buckwheat flour and himalayan pink salt to bowl and mix together.
Pour a thin layer of the crepe mix on a buttered 10″ skillet on medium heat.
This is where it gets tricky. Cook until the batter dries on the side that's down and flip that bad boy over with a silicone flat spatula or a stainless steel one will work too.
Repeat until all of batter is used. Should be about 12 crepes total.
Evenly spread two tablespoons of nutella on each crepe along with 1/2 of a banana sliced in small pieces.
---
Notes
Use organic ingredients whenever possible.
Category:

Appetizer, Breakfast, Snack

Cuisine:

French