With all the dualities that Thailand has to offer, the one that was most apparent to me was the
overwhelming anglophone influence. When we would try to speak not even two words in Thai, the locals would jump at the chance to practice their English with us. I'm not going to lie, it made our trip easier communication-wise, but it also made me a little sad.
I couldn't help but wonder what the next 10-15 years would hold for this country. Would people regard English as more important to learn than their native language? Will they think that Australian/British/American food tastes better than the explosion of flavor their food offers to so many of us worldwide? I'm all for bringing the world together and I am 100% sure that a lot of that happens through language, but, I for one, would love to learn everyone else's language.
Even though the Anglophone influence is peppered throughout Thailand's major cities, it still holds on to so many amazing cultural norms that I think we could learn from. Take the train. How many of you have ridden the train system in a major US city? In Chicago, it can be a free for all. People entering the train at the same time people are trying to exit is an every day occurrence.
Not in Thailand. They have something called a line. Concepts like "wait your turn" are a must when exiting and boarding a train. Crazy, I know! Before the train even approaches the station, people stand in line to board along the sides of PAINTED lines on the floor. Once passengers exit the train, the patient riders can board.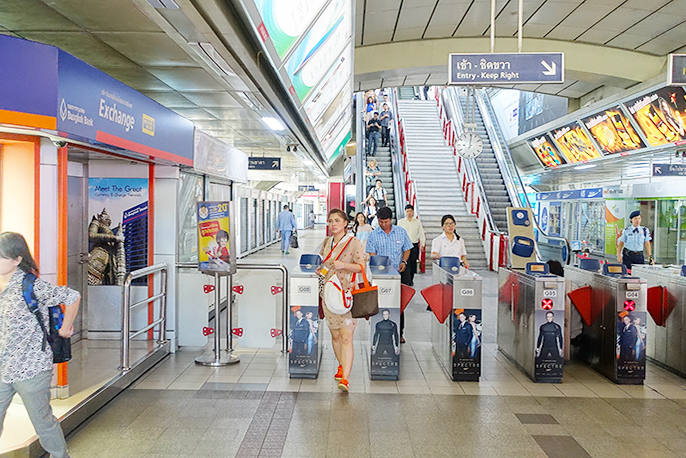 Now let's talk relaxation. Can you imagine getting a massage every day and having it be totally affordable? Welp, that was life for us in Thailand. For the cost of that lunch you ate today, you could get a massage in Thailand instead ($10 an hour). Their massage methods vary greatly from ours.
First, you get a foot massage that somehow magically cools you off. From there, it's on to a semi-private area where you change into their "massage pajamas." Masseuses step on your back, twist your body, crack bones, and kneed into areas of your body that were never massaged before.
The funniest part about this experience was walking into these massage spas and seeing the masseuses argue over who was going to massage J. It seemed that they were tying to avoid it. We made sure to tip a little more since he's like two people in one. J even ripped some of the pajamas they gave us.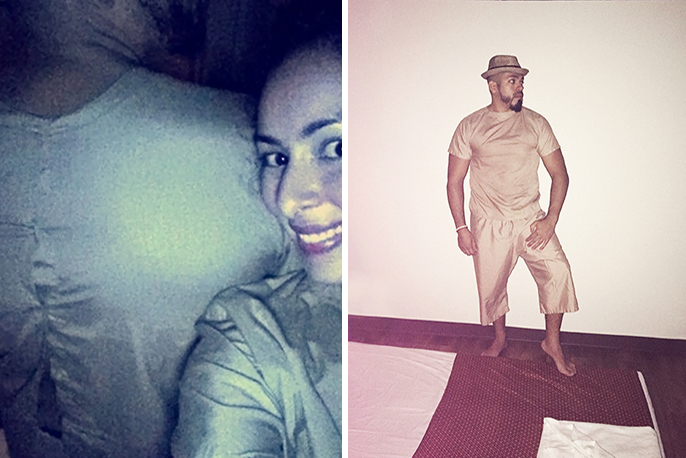 Left: just before a massage in Bangkok, J shown with a ripped seam; Right: Captain Morgan posing in his massage pjs
On to food, yes, we could've found some comforting American food all throughout Bangkok and other areas of Thailand, but we didn't. We couldn't. I mean, how could we? Well, J definitely found a way to get some pizza, but we'll just ignore that.
Food stalls were all too common and we frequented them often. Rule of thumb: if the locals are lined up, you know it's going to be delish. Otherwise, stay away! Restaurants weren't too bad either. The most we paid for a meal was $34 with tip. (BTW, that includes apps, alcoholic drinks ?, entrees and desserts for both of us). Yes, I did seriously consider moving there… and still am.  We lived like royalty and it was a life-changing trip. It turned out to be one of the greatest vacations we ever took.
A few monks we met in Ayutthaya even mistook us for Hollywood movie stars. Okay, that was just J ….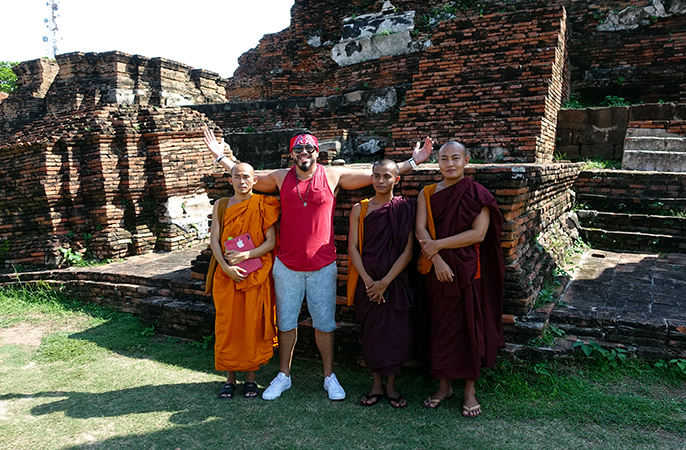 J with his new monk admirers who kept calling him a "Hollywood movie star"
In honor of the fusion of cultures we experienced, I created this dish called Pad See Thai – not quite Pad Thai and not quite Pad See Ew. It borrows the best of both dishes by combining the noodles and acidity of Pad Thai with the soy base of Pad See Ewe.
The Tangy Thai Sauce won't disappoint and is the major flavor enhancer of this dish. You won't want to put down that fork!
Print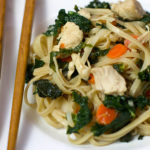 Pad See Thai
---
Author:

Prep Time:

20 minutes

Cook Time:

35 minutes

Total Time:

55 minutes

Yield:

8

people

1

x
Description
Not quite Pad Thai, not quite Pad See Ew, but don't let this dish fool you; it's still full of the flavor you love! Go ahead, overindulge.
---
Scale
Ingredients
14 oz

chicken breast

8

medium eggs

26 oz

Pad Thai brown rice noodles

8 cup

s kale (chopped)

4

large carrots (chopped into rings)

4 tbsp

garlic (minced; about

5

large cloves)

3 tbsp

avocado oil

1 cup

Tangy Thai Sauce
---
Instructions
Chop up veggies. As for the kale, I cheat and buy it already chopped! My favorite is the Tuscan kale at Trader Joe's. And yes, you guessed it, it's already washed. The less leafy greens I have to wash the better #petpeeve.
Cut chicken into cubes.
Put rice noodles in stainless steel bowl.
Boil water in a kettle. Once boiled, pour hot water into noodle bowl and stir to ensure all noodles soften, but don't stick. This should take about 1 or 2 minutes. Don't leave the noodles in the water for too long. You'll want the noodles "al dente" so they hold up later.
Now is a good time to make your Tangy Thai Sauce (see ingredient list for link to recipe).
Heat oil in a large pot.
Add chicken and garlic and stir until chicken is seared evenly (about 5-10 min).
Add the carrots and kale. Stir it up for about 5 minutes. You want the veggies to soften a bit, but not too much.
Cook the eggs in a separate skillet with a dash or two of salt. Add eggs to Pad See Thai mix.
Add the noodles back into the pot along with Tangy Thai Sauce. Mix everything together. The noodles might break apart – unfortunately, that's what happens with brown rice noodles, but it will still taste good. Promise.
---
Notes
Make it vegan: substitute chicken with tofu or veggies (broccoli or broccolini, 1 bunch for every 2 people, or green/red bell peppers: 2 of ea for this quantity) and omit eggs.
Use organic ingredients whenever possible.
Remember that cooking time is reduced if you are making this recipe for less people.
Category:

Entree

Cuisine:

Thai